Zero Sugar Chocolate Chips
Regular price

$19.99

Sale price

$19.99
Introducing our irresistible Zero Sugar Dark Chocolate Chips.
Elevate your culinary creations with our exquisite Zero Sugar Dark Chocolate Chips. Satisfy your sweet tooth cravings, all while embracing a keto-friendly lifestyle with a mere 1g Net Carb per generous serving of 60 chips. Use them to uplevel and deepen every any of your confections or treats or grab a handful for a quick indulgent snack.
Made from simple, high-quality ingredients, these premium dark chocolate baking chips redefine the art of culinary mastery. Whether you're whipping up sumptuous desserts, delectable pastries, or mouthwatering treats, our chocolate chips add an infusion of rich and decadent flavor that promises to delight.
With zero sugar added, no artificial sweeteners or sugar alcohols, these better-for-you chocolate chips are the perfect addition to any baked treat or as a simple way to satisfy your cravings!
INGREDIENTS

DARK CHOCOLATE CHIPS: Organic Unsweetened Chocolate Mass, Allulose, Cocoa Butter
NUTRITION FACTS

DARK CHOCOLATE CHIPS: Serving Size 60 Chips (14g), Calories 50, Total Fat 4g, Sat. Fat 2g, Trans Fat 0g, Cholesterol 0mg, Sodium 10mg, Total Carb 9g. Dietary Fiber 2g, Total Sugars 0g, Incl. 0 Added Sugars, Protein 1g

Net Carbs: 1g
Share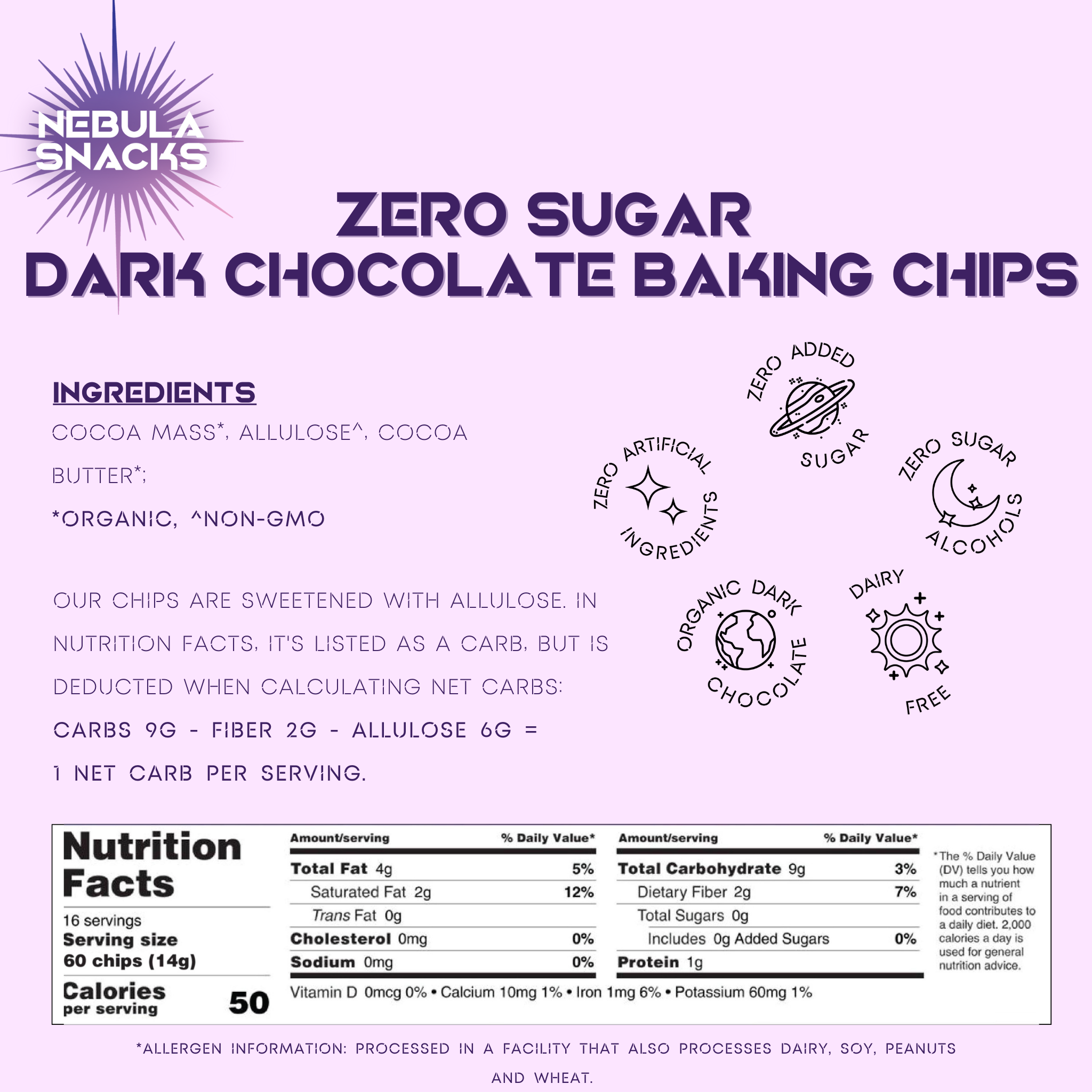 FAQs
What are Nebula Chocolate Chips sweetened with?

Nebula chocolate chips are sweetened with Allulose. Allulose is a natural 'sugar' found in things like figs and raisins. Allulose has the same chemical formula but is structured differently, preventing your body from processing it, and as a result has almost no calories, does not impact blood sugar or increases insulin levels. 

At Nebula we are committed to never using any added sugars, artificial ingredients or sugar alcohols to sweeten our snacks!
Are Nebula Chocolate Chips keto friendly?

Yes. Nebula Chocolate Chips are perfect for anyone on a ketogenic diet or on a low carb diet.

A serving of 60 Nebula chocolate chips only has 1g net carbs!
What are Net Carbs?

Not all carbs are created equal. Fiber and (most) natural sweeteners don't affect your blood sugar, so they're stripped out to get "net carbs," which you can think of as the active carbs that affect your body.

Nebula chocolate chips, for example = total carbs (9g)  - natural sweeteners (6g) - fiber (2g)= 1g Net Carbs.
Is Nebula Chocolate Non-GMO?

Yes! Although Nebula chocolate is not currently certified non-GMO, we only source certified non-GMO or certified organic ingredients for our chocolate.

Unfortunately, certifications can cost upwards of $5,000/year and as a small, self-funded startup, we have to be careful with over investing. As we grow, we plan to invest in the official certification.
Is Nebula Chocolate Vegan?

Yes! All Nebula Chocolate Bites and as well as our Zero Sugar Added Dark Chocolate Baking Chips are 100% Dairy Free and Vegan!
Is Nebula Chocolate diabetic diet friendly?

YES! Nebula chocolate chips are a great snack option for those with Type 1 or Type 2 Diabetes!

Sweetened naturally with allulose, which are blood glucose friendly.
Check Out Nebula Recipes!